| | | |
| --- | --- | --- |
| | | January 30, 2015 – Aman Jina presents the funds collected through the Empty Pencil Box Project to Mr. Douglas Dunn, Executive Director, SOS Children's Village B.C., for transfer to SOS Kenya with the request that it be directed to the Nairobi and Eldoret villages. |
I am proud to have been named an SOS Youth Ambassador and to have the opportunity to fundraise to support the work done by SOS Children's Villages around the world.
When I visited Kenya with my family in 2013, I was able to personally visit an SOS Children's Village in Eldoret, Kenya, and see first-hand the work done by this charity to provide homes to orphaned children. When I visited the SOS Children's Village in the Buruburu area of Nairobi, I saw the same life-changing compassion.
For details of my family visits in Africa, please click here.
SOS Children's Villages were established in 1949 with a commitment to provide a family for as many children as possible. Thus, the children in an SOS Children's Village live in a family setting, with a house mother and other children who become their siblings. SOS Children's Villages are the world's largest charity devoted to helping both orphaned and abandoned children. The organization also assists families at risk, so families are supported in staying together and keeping their children.

SOS Children's Villages are:
Active in 132 countries and territories;
Operate more than 2,000 Villages around the world; and
Have provided homes for orphan children for more than half a century.
To learn more about SOS Children's Villages in Africa – click here and here.
Since visiting Africa and seeing the need for help first-hand, I have continued to raise money for SOS Children's Villages. I am fortunate to have a loving and supportive family. I want to help other young people grow up feeling supported so they can reach their full potential.
In addition to helping orphans in developing countries, SOS Children's Villages also helps children in my home province of B.C. in Canada. This Village has five homes which provide subsidized housing and programs for foster children and their parents. The B.C. organization also offers support programs for foster children, for families dealing with autism, and for former foster children aging out of the system, who often still need support to become successful adults.
For more on the B.C. programs, please click here.
By sharing my experience as a supporter of the SOS Children's Villages, I hope to inspire other people to also support this worthwhile, international charity. The world's children are our future.
BELOW:
Our first project: delivering stationery donations to schools in Kenya and Tanzania.
Click here to see more.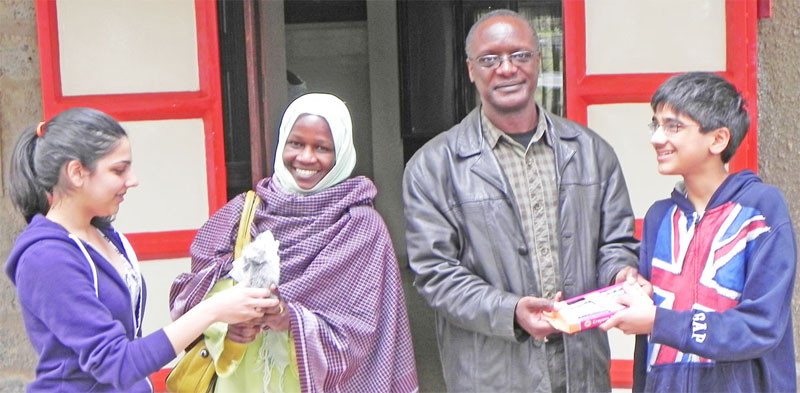 We believe we are privileged to live in Canada but we recognize that our good fortune is due to choices made before we were
born. Our grandparents emigrated from Africa to Canada, so we still have family in Africa. For that reason, we have had the
opportunity to visit Kenya and Tanzania and directly help those in need, by personally delivering donations.
We have also had the opportunity to see first-hand how even our small efforts can have a huge impact. We are inspired to do
more to help the people we've met. They are all working hard to improve lives and we are humbled to realize that we have
the ability to help.
Our next project is to raise $3,000 to help support an SOS Children's Village in Kenya. Please click here to experience a 'virtual visit' .
To donate, please click on the DONATION link at
right to reach our secure Donation site. Donations
can be made via PayPal and go into a dedicated bank
account for transfer to SOS Children's Villages Canada.

We have arranged with SOS Children's Villages Canada
for donations to be designated for an SOS Children's
Village in Kenya.




For more information, please click on any of the following links.